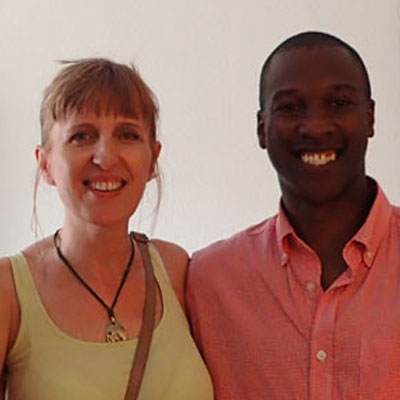 Sarah – Leader AKA 'Archangel'
Along with her husband Gary, Sarah received 'the call' from above, in July 2015, to assume the Leadership of Street Angels Spain from the former leaders, Cameron and Abi. This 'everyday call', required relocating permanently from the UK to Mallorca, in 2016.
Sarah and Gary have 3 daughters, and this meant that Sarah was left with the task of relocating house, children and dog(!), to Mallorca this summer, whilst Gary 'topped up' his tan! One would have thought that traditional roles would be exempt with Angels!
Although Sarah was the last Angel to arrive, her presence was immediately felt; everybody's pocket was lighter! Sarah was instrumental in generating the funds needed to acquire the Street Angel's Café: The Gap! Her passion, energy and vision to have a place in the heart of Magaluf whereby a real community can be built, was shared by many; we never knew so many people wanted to know whether God preferred Cappuccino or Latte?!
This Angel leads from the front. Sarah sacrificed many Saturday morning's running car boot sales, in order to raise funds for Street Angels. Sarah is also very creative. Sarah designs logos and straplines, with provocative messages, printed on t-shirts and hoodies that encourages individuals to think about their identity and purpose in life.
Whilst pragmatic in nature, Sarah's wit and charm brings much needed joy and laughter to the Street Angel's team; has anyone tasted her coffee?!!
In brief, Sarah's patience and kindness promotes friendship wherever she goes.
So Sarah, does God prefer Latte or Cappuccino?!…